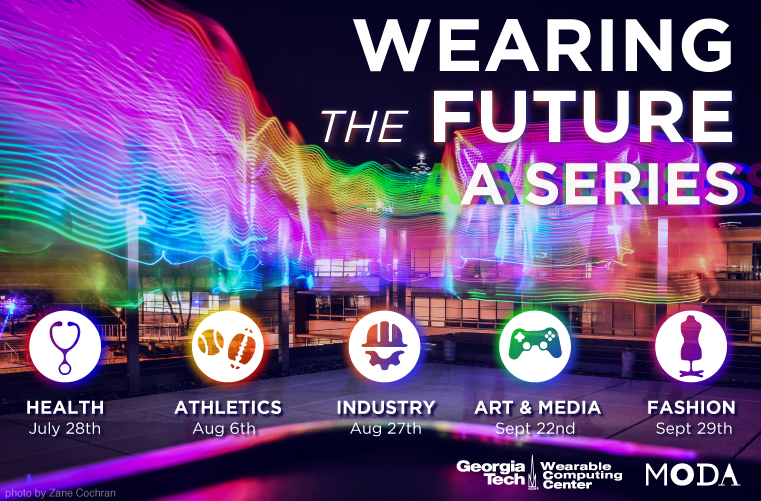 The Wearable Computing Center at Georgia Tech in collaboration with the Museum of Design Atlanta (MODA) will host a series of exciting presentations this fall to complement the exhibition
Wearing the Future will be a series of five panel discussions by thought leaders, exploring the impact of wearable technology across various domains. The sessions aim to provoke thought about the future of technology and how society will adapt and include wearable technology to drive better and newer outcomes. The panels and presentations will include academic and research experts and thought leaders from industry including trend forecasters, athletes, designers, manufacturers and health professionals.
Admission is free with regular admission to MODA, but seating is limited. Please register in advance by clicking here.  Members -FREE | Non-members $10 | Military, Educators, Seniors $8 / Students $5 with valid ID.
Wearing the Future is Sponsored by: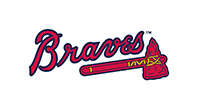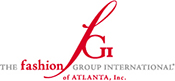 Register in Advance - Tickets 
Live Webcast HERE

HEALTH
July 28th 
5:30 pm Tour of On You:Wearing Technology with co-curator Clint Zeagler
7:00 pm Panel Discussion: Health and Wearable Technology
Advances in wearable technology will have profound impacts on our health. Healthcare could be improved and personalized by tracking trends in individual physical health. Wearable technology could provide simpler and more efficient ways of providing care, even in impoverished nations. As sensing technology improves and we are able to captures brain signals while mobile, what opportunities could this afford to even mental health? How do we keep our personal health information private but also useful to our health providers? What is the future of wellness and healthcare with the aid of personal wearable technology?
Beth Mynatt – moderator -Beth Mynatt
Elizabeth D. Mynatt is the executive director of the Institute for People and Technology, and Professor in the College of Computing at the Georgia Institute of Technology. Her research program Everyday Computing examines the human-computer interface implications of having computation continuously present in many aspects of everyday life. Her research contributes to ongoing work in personal health informatics, computer-supported collaborative work and human-computer interface design. Mynatt has created new technologies that support the independence and quality of life of older adults "aging in place," that help people manage diabetes, and that increase creative collaboration in workplaces.
Jiten Chhabra -  Jiten Chhabra
Dr. Chhabra is an India-born physician, healthcare entrepreneur and health tech researcher at the Interactive Media Technology Center. He has over five years of experience in technology design (500NearMe), product development (SmartMenu, Rheumate), tech transfer (Sensiotec) and outcomes evaluation (ShareCare) of health and nutrition technologies. Dr. Chhabra has been an invited speaker on forums like CNN and Health 2.0 and his research has been supported by agencies like the National Science Foundation, Centers for Disease Control, National Institute on Disability and Rehabilitation Research and Google Research. Dr. Chhabra also advises students and health startups on health tech commercialization.
Raja Schaar -  Raja Schaar
Raja Schaar is a design instructor for the Wallace H. Coulter Department of Biomedical Engineering at GA Tech and Emory University where she is instrumental in steering the pedagogy of the sophomore engineering design course as well as depth electives on medical device design. She works to infuse the design curriculum with human-centered design methodologies in addition to co-managing the BME machine shop. Her approach is fueled by over 10 years of experience as both an industrial designer and university design lecturer. Course topics include medical devices, interaction design, exhibition design, eco-design, biologically-inspired design, transportation, service design, and application development. Schaar pushes her students to apply design thinking and human-centered design methodologies to the development of medical device concepts.
Juliet Sekandi - Juliet Sekandi
Juliet Sekandi is an Assistant Professor in the Center for Global Health and Department of Epidemiology and Biostatistics in the College of Public Health at the University of Georgia.  She is a Ugandan physician with a Master of Science degree and a Doctor of Public Health degree. Dr. Sekandi focuses on early detection and prevention of infectious diseases specifically Tuberculosis and HIV in Africa. Her passion is creating novel solutions that involve mobile technologies to combat global health problems and improve the health of populations. She has special interests in the emerging field of mobile health (mHealth) where she works collaboratively with professionals outside of public health and medicine disciplines such as Engineers, Computer scientists, Information technologists, to create low-cost and sustainable health solutions.  

ATHLETICS
August 6th 
1:00 pm Tour of On You:Wearing Technology with co-curator Clint Zeagler
2:00 pm Panel Discussion: Athletics and Wearable Technology
Looking beyond the simple commercial fitness tracker of today, how will advanced sensors and wearable technology affect the way athletes train in the future? What innovative ways are wearable technologies enhancing team practice today, and how will this evolve? Who sees and owns data tracked on professional athletes? We can also anticipate that wearable technology will enhance the spectator's experience. Will wearable technology allow us to get closer to the action?
Brad Stenger – moderator - Brad Stenger
Brad Stenger is a journalist, consultant and researcher based in Rochester NY. Current clients include: the NYU Center for Data Science, the U.S. Soccer Federation and the Buffalo NY startup, CoachMePlus. 
A.J. Scola - Braves
AJ Scola is a 2009 alum of Amherst College where he played Football and Ice Hockey. Scola played 2 years of professional football in Germany and Spain before attending law school at the University of Connecticut. His first job in baseball was working in International Player Development and Scouting for the Cleveland Indians in 2012. Scola was hired by the Atlanta Braves in December 2012 and worked in the Pro Scouting side of the business until his move to Player Development where he is currently the Manager, Minor League Operations. Scola assists Jonathan Schuerholz in overseeing the Atlanta Braves farm system and development of the minor league players.
Eric Reveno - Eric Reveno - @CoachReveno
Eric Reveno, who recently completed a 10-year run as the head coach at the University of Portland, joined Josh Pastner's men's basketball staff at Georgia Tech as assistant coach on May 6, 2016. Long recognized as a leader in the use of sports performance analysis technology, Reveno spoke in Sydney, Australia during the fall of 2008 at a worldwide summit hosted by SportsTec, one of the foremost providers of video and technology solutions to the international sports community. The cutting edge approach to technology became a staple of the Pilot program in teaching, player development and recruiting. As a result, Reveno was the lone representative from the United States asked to speak to an audience of performance professionals from some of the top sports leagues and organizations in the world. Dave Telep, ESPN.com Senior Recruiting Analyst, said that, "Reveno is unofficially the most technologically advanced man we've met in college basketball. His new I-Phone is wired up to the point where he's got his recruiting database, clips of his offense, directions to gyms in Vegas AND his favorite Johnny Cash songs all in one."
Leanne West - Leanne West
Leanne West is a Principal Research Scientist in the Georgia Tech Research Institute and the Chief Engineer of Pediatric Technologies for Georgia Tech. Her background includes remote sensing, mobile health applications, and algorithm development. She serves as the technical liaison between Georgia Tech and Children's Healthcare of Atlanta. She also runs a funding program as a part of the relationship with Children's called "Quick Wins," which funds solutions to problems that are clinician-driven and that can be wholly solved in 18 months or less. Ms. West has worked with sensor driven technologies for many years, and can talk to GTRI translational work done in the study of concussion sensing that applies equally to pediatrics as it does to sports technologies. Ms. West is also an inventor and pioneer in wireless personal captioning that has been deployed in sports venues.
Ms. West serves on the executive management team of the Parker H. Petit Institute for Bioengineering and Bioscience and on the health team within Georgia Tech's Institute for People and Technology (IPaT). She has served as the twice-elected Chair of the Georgia Tech Executive Board and is currently the Chair of the Charitable Campaign. She was recognized by Georgia Trend magazine as one of Georgia's "40 Under 40" in 2004; she was selected for Leadership Georgia in 2008; she was a member of the team awarded the international Optical Society 2012 Paul F. Forman Engineering Excellence Award; she received Georgia Tech's Outstanding Achievement in Research Enterprise Enhancement Award in 2014, and she was Women in Technology's Woman of the year in 2014. 
Peter Presti - Peter Presti
Peter Presti is the Co-Director of the Wearable Computing Center and a Senior Research Scientist with the Interactive Media Technology Center at the Georgia Institute of Technology. During his 22 years with the university he has collaborated with companies such as IBM, Humana, Google, Microsoft, Intel, Alcatel-Lucent, Bellsouth, Denon Nippon-Columbia, and others. Government research sponsors have included DARPA, NIH, NSF, DoE, USDA, and the VA. His areas of research include sensor systems and biometrics, wearable computers, signal processing, pattern recognition, embedded systems, electronics design, data visualization and computer graphics, and computational geometry. His background spanning both custom hardware and software development provides him the skills to design and build fully integrated prototype systems, and in past projects has designed and built high-speed data capture systems, a variety of kinetic sensors, biometric sensors, and wearable computer systems.

INDUSTRY
August 27th 
1:00 pm Tour of On You:Wearing Technology with co-curator Clint Zeagler
2:00 pm Panel Discussion: Industry and Wearable Technology
Head mounted displays have been used in industry since the '90s for mobile on site repair and access to large amounts of locally stored information. With the advent of improved network connections and better understanding of mobile interactions these devices now have the technology and opportunity to make a huge impact in the way we manufacture. Assembly line personnel can work through checklists and order picking more affectively. Specialized mechanics can access remote experts and have real time conversations about parts through the cloud. How will even more improvements in wearable technology affect industry and manufacturing?
Thad Starner – moderator - Thad Starner
Thad Starner is a Professor of Computing at the Georgia Institute of Technology and is a wearable computing pioneer, having worn head-up display based computers as everyday personal assistants since 1993. He is one of the technical leads on Google's Project Glass and a founder of the IEEE Technical Committee on Wearable Information Systems. Thad's experience with rapid prototyping has enabled his research groups to create innovative mobile and ubiquitous computing devices that often foreshadowed current commercial products such as mobile MP3 players, mobile context aware search systems, multitouch augmented desktops, and mobile computer vision-based augmented realities.
Sam Kellet Jr. - Sam Kellett, Jr.
Sam Kellett, Jr. is the Chairman, CEO, and Co-founder of United Sciences, LLC. Sam is responsible for establishing and executing the overall strategic direction of United Sciences and is very involved in driving precision 3D hole scanning solutions. Before United Sciences Sam was a successful entrepreneur with over 18 years of experience in the technology, logistics and healthcare sectors. Sam was founder and CEO of a technology company that he sold to Reed Elsevier. Sam is also an advisory board member at the College of Computing at the Georgia Institute of Technology and was also appointed by the Governor of Georgia to the Jekyll Island Port Authority Board and Public Schools Retirement Pension Board. Sam holds an undergraduate degree from North Carolina State University and holds an MBA from the University of Georgia.
John Swansey- AgVoice
John is Co-founder and Chief Design Officer of AgVoice, a software startup which is developing an innovative mobile-to-cloud, voice-to-data interaction system for field professionals in agriculture.His work focuses on purposeful innovation in the man/machine interface inspired by detailed insights into the users intended task and unique environment, striking a balance of practical, emotional and aesthetic appeal. His work has appeared in numerous museums including New York's Museum of Modern Art; the Chicago Athenaeum; and Red Dot, Die Neue Sammlung and Vitra museums in Germany.  He has earned over three dozen national and international awards for design and innovation and holds over two dozen patents. John is a frequent lecturer and critic on design, innovation, product development and global business at universities including Duke, Kenan-Flagler Business School at UNC, North Carolina State University's School of Design, Georgia Tech, RISD and Hong Kong Polytechnic. John earned a bachelor's degree in mechanical engineering at Harvard, a master's degree in industrial design from Rhode Island School of Design (RISD) and has studied at MIT and Domus Academy in Milan, Italy.

ARTS & MEDIA
September 22nd
5:30 pm Tour of On You:Wearing Technology with co-curator Clint Zeagler
7:00 pm Panel Discussion: Arts & Media and Wearable Technology
Wearable Technology sensing combined with Virtual Reality VR and Augmented Reality AR advances will not only form how we will consume media in the future, but also how we create it. Facebook took a step towards validating the future of VR/AR media display with the highly publicized purchase of Oculus Rift. We should also look to how wearable technology can aid in creation, how choreographers and musicians can use this technology in performance and in composing new works. Lets look at advancements in gaming to what the future might hold. Can we become part of the story?
Madison Cario - moderator -  Madison Cario
Madison Cario is the Director of GT Arts and comes to Georgia Tech from The Annenberg Center for the Performing Arts at the University of Pennsylvania, where she served as Director of Student Engagement, Director of Special Artistic Initiatives, and Director of Operations and Facilities. Cario holds a Master of Science in Environmental Studies from the University of Pennsylvania and a Bachelor of Arts in Rhetoric and Communication, Summa Cum Laude, from Temple University.
Jarrell Pair - Jarrell Pair
Jarrell Pair's career spans the areas of online video, mobile computing, wearables, augmented reality, and immersive virtual environments.  During 1999-2001, he was part of the team that developed the CharmIT wearable computing kit and produced dozens of wearable technology fashion shows in ten countries.  Pair founded and oversaw the influential Mixed Reality Research and Development Group at the University of Southern California's Institute for Creative Technologies.  In 2008-2011, he served as CTO at LP33, a music entertainment company focused on the discovery and promotion of emerging and established artists through its multi-platform online video and social networking technology.  At Georgia Tech, he received a M.S. in Human-Computer-Interaction, a bachelor's in Computer Engineering, and a B.S. in International Affairs.  He is the 2008 alumni recipient of the Ivan Allen Legacy Award for his work developing a virtual reality system for treating Iraq war veterans suffering from post traumatic stress disorder (PTSD).
Rocco Centrella - Rhó
The Talented and multi-strumentalist Rhò, studied music extensively when he was growing up thanks to a kind uncle who saved him from playing football every night with the other kids.  Born Rocco Centrella, the young maverick has a unique relationship with sound. Balance is key to the work of Rhò, whose voice travels to some unusual and very Italian harmonic vistas, mixing folk and electronic. Rhó worked with the Georgia Tech Wearable Computing Center to create 'The Hood' which is on  display in the current exhibition at MODA.  He used the garment to develop and play new musical compositions, activated by the body and tangble interaction during performance.
Delton Moore –
Delton Moore is a architectural designer at Gensler Atlanta, where he supports a multi-disciplinary approach to architectural practice and presentation.  He received a bachelor of architecture degree from Southern Polytechnic State University (now Kennesaw State University - Marietta).  Moore has an interest in how wearable technology along with virtual and augmented reality might affect architectural work process and help communicate experiential qualities of designed space before they are built.  He has also worked on teams developing wearable projects (The Hood) as a design and experience advocate.
Vu Ha -  Vu Ha
Vu Ha is a software engineer at Funomena, an AR/VR game studio, where he works on an experimental augmented reality game called Woorld which is targeted towards handheld devices utilizing Google Tango.  Before that, he worked at Electronic Arts/Maxis for 3 years on SimCity and new IP development. He has also worked closely with Qualcomm's Augmented Reality SDK (Vuforia), helping to create the Rock'em Sock'em AR demo showcased during its initial launch. He holds an undergraduate degree in Computational Media and master's degree in Computer Science from Georgia Tech. During his master's program he worked on the AR game Nerdherder.
Lane Conville-Canney 
Lane Conville-Canney is the Special Events and Grants Coordinator for the Georgia Tech Ferst Center for the Arts / Office of the Arts and works to create engaging artistic collaborations between artists and technologists. Lane has worked with arts organizations as a grant writer and grants manager, and with non-profit boards to cultivate new donors and increase board engagement through unique experiences in programming and quality stewardship of organizational support. Prior to joining the Office of the Arts, she worked as the Prospect Development Manager with the Office of University Advancement at Clayton State University.

FASHION
September 29th 
5:30 pm Tour of On You:Wearing Technology with co-curator Clint Zeagler
7:00 pm Panel Discussion: Fashion and Wearable Technology
Fashion in terms of apparel and branded items are obviously the most commercial wearable products. Anything a person puts on their body has to do more than function; it also has to conform to their personal and societal representation of themselves. The fashion industry and technology industry work on different timetables and have different trending mechanisms. The people that work in these industries use different terminology, and have very different training and interests. When and how will we see true technology integration in fashion, in clothing, in textiles? Will we see tech couture by major fashion houses?
Clint Zeagler – moderator -  Clint Zeagler
Clint Zeagler is the Program Manager for the Georgia Tech Wearable Computing Center. While teaching textiles and fashion design studio classes at Savannah College of Art & Design, Zeagler realized his true passion lies in bridging the gap between the disciplines of Wearable design and Human Centered Computing. A diverse background in fashion, industrial design and textiles drives his research on electronic textiles and on-body interfaces with the Contextual Computing Group of the GVU center of Georgia Tech. As a Research Scientist  for the Georgia Tech Interactive Media Technology Center and Instructor for the Georgia Tech School of Industrial Design he teaches courses on Wearable Product Design and an ID section of Mobile and Ubiquitous Computing. He is also a member of the NASA Wearable Technology Cluster a group of scientists and academics working together to give advice to those in NASA working on wearable computing or electronic textile projects. A deep understanding of the garment production process fosters innovation in his research. Zeagler's company Pecan Pie Couture (now closed) hand dyed, embroidered, and screen-printed textiles and garments. Building upon that skillset, his research led to the creation of the Electronic Textile Interface Swatch Book (ESwatchBook) in collaboration with Thad Starner. The ESwatchBook is designed to help facilitate discussions between the skill and craft-based design disciplines (.i.e. fashion) and more technical disciplines (.i.e. computer science).
Lucy Dunne - Lucy Dunne
Dr Dunne founded the Wearable Technology Lab in 2008. Her background spans apparel design, computer science, and electronic engineering. She teaches in the Apparel Design undergraduate program and the Apparel Studies graduate program, is a member of the graduate faculty in Human Factors and Ergonomics and Product Design, and is an Affiliate Member of the Computer Science and Engineering and Eletrical and Computer Engineering graduate faculties, and the Institute for Health Informatics.
Kevin Knaus -  Kevin Knaus
Kevin Knaus is a Professor of Fashion Marketing and Luxury Management at the Savannah College of Art and Design. Knaus was formerly the Vice President of Global Fashion and Trend Direction of Material World trade show. He remains an accomplished fashion industry professional with demonstrated expertise in trend forecasting, retail management, event planning, marketing, education and international public speaking. Highly successful in developing and capitalizing on emerging trends in fabrics, apparel, home, luxury and entertainment. Experienced in multi-cultural environments, with more than 25 years of business related international travel.
Susan Spencer - Valentina
Susan Spencer is the founder and product manager for Valentina, an open source software project to create garment patterns using parametric design. It is designed to be the foundation of a new stack of open source tools to remake the garment industry. Her background and skillset acquired as a Senior Network Analyst for IT Contracting have merged with her interest in garment production, and the industry of fashion to motivate the release of Valentina.